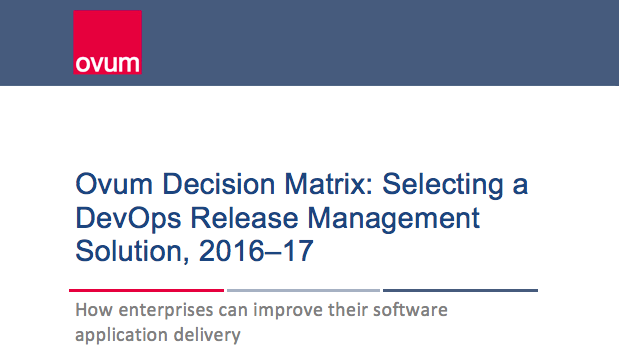 In March 2016, OVUM released an updated version of their ODM report: "Selecting a DevOps Release Management solution 2016-2017", written by Michael Azoff.
The report focuses on the automation aspects of DevOps, DevOps release management, by which they mean release management, orchestration, and automation. Vendors covered differ in what they offer in one product/box or split between multiple products. The report compares solutions from the leading release management vendors in the market and provides decision guidelines and comparison criteria.. Finally, the document explains what DevOps means for those unfamiliar with the concept and takes a look at the evolution of DevOps and the technologies it is pushing forward, principally microservices architecture and the use of virtual containers.
Definitely a great value document to read and use when you want to implement a solid DevOps Platform.
"Clarive is a relatively new player in the DevOps market with one of the highest performing solutions in the ODM"
"Release management is part of ALM, and Ovum expects a new generation of ALM products to appear that offer a single, holistic, and integrated box, comprising an ALM solution with a full DevOps Release Management capability. Clarive and Microsoft Team Foundation Server already provide this. Most of the solutions covered in this report are distinct products that are not part of such a single integrated ALM box, but a number of vendors (IBM, CA Technologies, and HPE) offer integrated solutions across their ALM portfolio. "