DevOps for the evolving Enterprise
WAIT UNTIL YOU ARE AGILE
OR
START TODAY?
The more interconnected your IT application architectures, the higher the risk of failure as a result of a change. This is why changes in highly interconnected systems are mostly handled top-down, which strong release and change management, and driven by operations (as they need to guarantee availability and operational success). The frequency of changes is kept as low as possible to reduce the amount of risk of failure.
This is described at the left side of the picture below: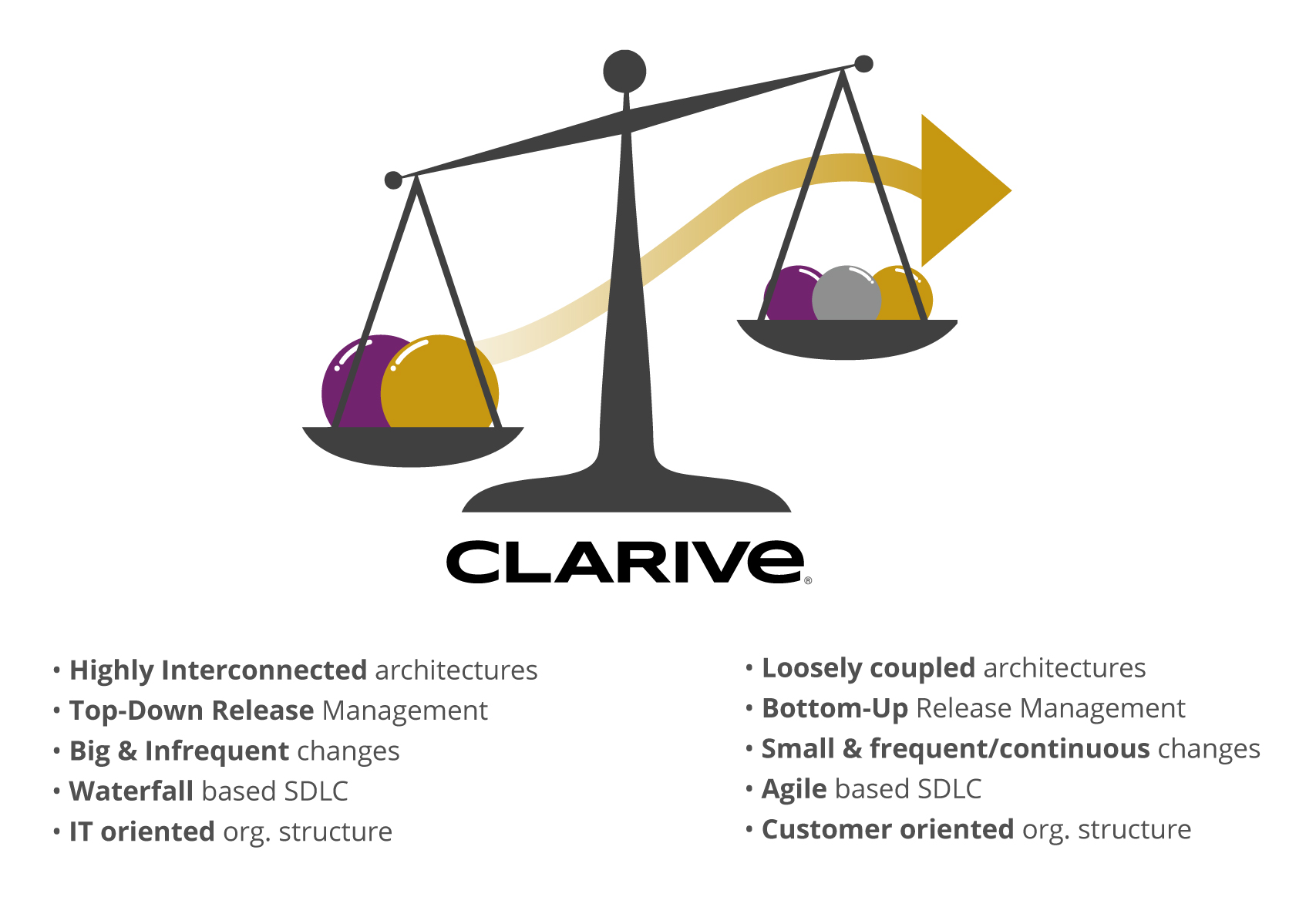 Note that this is just the opposite of the expectations from many business users today. They expect agility, frequent updates, short lead times, etc.
This means that organizations are expected to evolve their IT architectures so they become more loosely coupled (less dependent on each other). Loosely coupled components can change more frequently (as frequent as needed by the business). Organizations will also adjust their development methodologies to become more agile. Development/Delivery teams will take more the lead in driving changes and the risk of change will become a lot lower.
With higher frequency comes more automation and higher quality demands. To increase the frequency and quality, more automation is key in order to cut the delivery times. We see this automation in Build, Test, Provision, and Deploy. Also collaboration between the different stakeholders needs optimization to achieve the goal.
Sounds very much like DevOps..!
Indeed DevOps is the right approach when you are working within an environment as described on the right side of the balance. The question you need to ask is: Do you need to wait until you have evolved your architectures and delivery processes as described by the right side, or can you start sooner?
With Clarive, you can start TODAY! The practices of automation, integration, and collaboration also add value to an environment described by the left side of the balance.
Clarive is the ideal technical single-tool solution to start with DevOps today. It will continue to support your organization while IT architectures transition from tightly to loosely coupled, delivery processes transition from waterfall to agile, or whatever other evolution your delivery teams are going through. In other words, Clarive allows you to transition your Delivery approach and rebalance it over time to optimally support your business.